Fifty Years +
It was at the age of 13 that I took my first black & white aircraft pictures in 1966, using the Agfa Clack camera borrowed from my mother. That was at Schiphol-Oost, the former location of Amsterdam's international airport.  

As my photography activities progressed, I started to publish my pictures and accompanying features in an array of magazines all over the world and later also a range of books. That activity still continues. On 27 March 1981 the Royal Hong Kong Auxiliary Air Force provided the opportunity for my first air-to-air session. Several more flights followed that year, including the unforgettable first fast jet experience on board of a Royal Canadian Air Force CF-104D.  

In June 1982 it was Cor de Blij who arranged my first Harvard flight and introduced me to the Fokker Four Team on the same day at Lelystad. That was the start of a treasured friendship and dozens of exiting photo sessions together. In August 1982 he also brought me to the Stichting Vliegsport Gilze-Rijen, now the Koninklijke Luchtmacht Historische Vlucht - KLuHV (Royal Netherlands Air Force Historical Flight), where I flew my first session with them nearby the base.

Many more photo missions from Gilze would follow. The Historic Flight's quarters have meanwhile become a 'second home'. My airborne photography of KLuHV aircraft over the years was extensively featured in two books about the Flight and its history. "35 Jaar bewogen door de tijd" was appeared in September 2004 and "De Tijd Vliegt" in August 2013. The latter can still be ordered via www.kluhv.nl
In 1994 I was invited to visit the Royal Jordanian Falcons in their home country. One of the sessions was flown out of Aqaba early morning over the spectacular Wadi-Rum desert and produced the picture that was chosen "Best of the Best" in the annual photo contest of Aviation Week & Space Technology. A coveted award. In the following year I was asked to portray the aircraft of the Royal Jordan Air Force in flight. An unforgettable  privilege and experience. Several visits to this beautiful country have followed since. 

                                                                                                                                                                                                                                (*)
Already in 2000 Robert van Diemen en I made the first flight together and the 100th was accomplished on 10 April 2014. And the count is increasing steadily. We have become a real team. And he also owns a beautiful and photogenic Bolkow 207 that has been a cameraship several times! 

In the course of time there have been some very special photo missions. Amongst these the encounter with Martinair's MD11 "Prinses Máxima", the missions flown in Portugal in 2006, KLM's 90th anniversary celebration flight in 2009 and the F-16/Harvard formation in 2011. The photo galleries will show you many more exiting adventures. 

Every year so far has produced several highlights. In 2016 accompanying Texan SE-CHP on its ferry flight from Sweden to Lelystad was one of the many unforgettable missions. As was the opportunity to portray Mustang PH-JAT 'Trusty Rusty' and the sessions over Gran Canaria including a Guardia Civil Bo105.

Mentioning only two names in the summary of fifty years is doing many others short, but I know they will understand. It is simply impossible to mention all of the hundreds of other people that have flown with and for me over the years or have supported my photography in other ways. On this website a tribute page is gratefully dedicated to all of them. I have been truly blessed by meeting and flying with some of the best pilots around. Benefiting from their flying skills, inspiring suggestions and safety consciousness. And I am more than aware that those flights could never be made without the support of as many, if not more technicians. Yet my biggest supporter and facilitator over the years has undoubtedly been my dear wife Meta!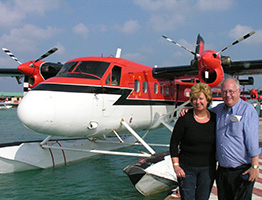 My aviation photography career ran parallel to a successful full time occupation in management and commercial positions in the trading of chemicals and the transportation of liquid products in bulk world-wide by tank containers that started in 1974. In 2013 I was able to retire early from this exiting industry.
Galleries 
New material will be added to the individual galleries frequently. Thousands of slides from the pre-digital period (before 2003), some of them very exclusive, are still awaiting sorting and scanning.
Historic galleries contain aircraft built prior to 1970. You may find some 'smuggled in' that are slightly younger. The Warbirds Gallery includes aircraft types that actively served during World War II. Some versions of these types that were built after the war may also be added
Military galleries will also include aircraft operated by government organizations like Police Air Wings if these organizations use their own (non-civil) registrations. If aircraft are on a civil register they will appear in the appropriate Civil galleries.
Main themes and/or sub-sections may be added to the gallery structure to better group material. Whenever possible major changes or additions will be included in the NEWS section
The site background
Returning to Amsterdam after my Japanese photo tour on 11 july 2014, the KLM 777 I flew on travelled through an impressive landscape of cumulonimbus clouds over the province of Groningen in the north of the Netherlands. Certainly one of the most spectacular build ups I ever saw. Unfortunately I was too late to unpack the camera gear so used the android phone to make the picture that is behind the website.
Images available for your use
Thousands of high quality images in colour and black&white are available to support:
- Television Broadcasting companies
- Newspapers / Magazines / Book Publishers
- Internet Sites
- Educational Organizations
Please do not hesitate to contact me for any inquiry for potential use that you may have.
Publications
Please refer to the Publications section for examples of the many contributions that were made to leading aviation publications all over the world.
Is your aircraft a "centrefold"?
I would gladly employ my air-to-air photography skills to portray your aircraft in flight. Experienced pilots are available to support photo sessions and a variety of suitable camera planes can be drawn from. Please do not hesitate to contact me for a proposal if you are interested.
Your support is essential!
Many of my endeavours have been and still are dependent on the support of many people and authorities. Thank you in advance for providing such support and for granting requested facilities. It will enable me to fulfil my continuous objective:
Capturing Tomorrow's Aviation History Today!
Ben Ullings
(*) Pieter van Gemert portrayed me in 1995 flying in the backseat of an F-5F from the rear ramp of a Royal Jordanian Air Force Hercules.